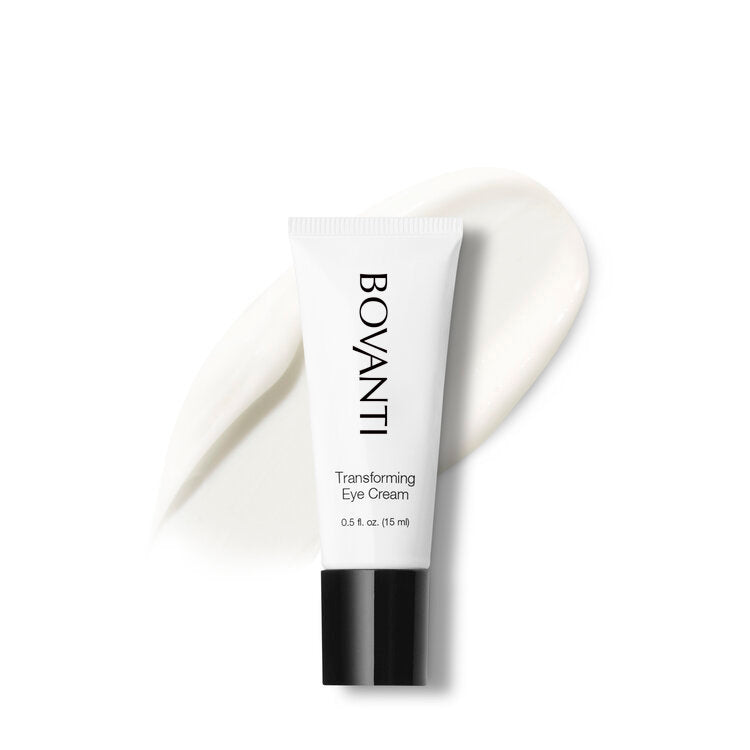 TRANSFORMING EYE CREAM

It's all in the details
Deep-repairing action: Since our under-eyes is the area of our body where our skin the thinnest, it's also one of the areas that are most vulnerable to sun damage. This eye cream's repairing formula offers an advanced blend of over 9 powerful actives, including peptides and vitamins C and E that work deeply beneath the skin's surface to turn back the clock and reveal healthier, younger-looking skin.
Unparalleled results: The Transforming Eye Cream has earned its name for a reason. Each application works to simultaneously repair, firm, tone, protect, smooth, replenish, rejuvenate, brighten, and hydrate the under eyes.
Enhances radiance: When your eyes look tired, so does the rest of your face. Thankfully, the caffeine in this cream works to promote an increased microcirculation and wake up this area, while luxurious pearl extract helps to noticeably brighten your under-eyes. What's more, soft pearl minerals blur imperfections while jojoba oil offers fatty acids that intensely nourish and hydrate for a plump, airbrushed look.
What you'll love about it
Repairs sun-damaged skin
Firms and tones
Potent antioxidant protection
Fights environmental aggressors
Silky smooth texture
Rejuvenating tetrapeptide 5
Protective jojoba
Microcirculation stimulating caffeine
Moisture-retaining sodium hyaluronate
Skin-perfecting optical diffusers
Replenishing soft focus minerals
Brightening pearl extract
Free radical fighting vitamin C
Restorative vitamin E
Pro tip
In both your morning and evening routines, apply this eye cream around your under-eyes by dabbing the product gently with your ring finger.
Key Ingredients
Tetrapeptide 5:

Works on multiple pathways to depuff, smooth, brighten, and improve elasticity around the eyes.

 

Dermal Filler:

Helps restore skin volume and smooth away fine wrinkles, providing a continuous release of Sodium Hyaluronate for deep hydration throughout the day.

 

Soft Focus Minerals, Pearl Extract, and Optical Diffusers:

A blend of botanicals that help minimize the appearance of imperfections and fine lines by reflecting light.

 

Jojoba Oil:

Rich in fatty acids, this natural oil is chemically one of the most similar oils to our skin's sebum, making it a bio-mimetic moisturizer & emollient.

 

Caffeine:

Stimulates micro-circulation, contains powerful antioxidants, and provides anti-inflammatory benefits.

 

Vitamins C & E:

Powerful antioxidants that work to combat the effects of free radical scavengers

if endif

if endif