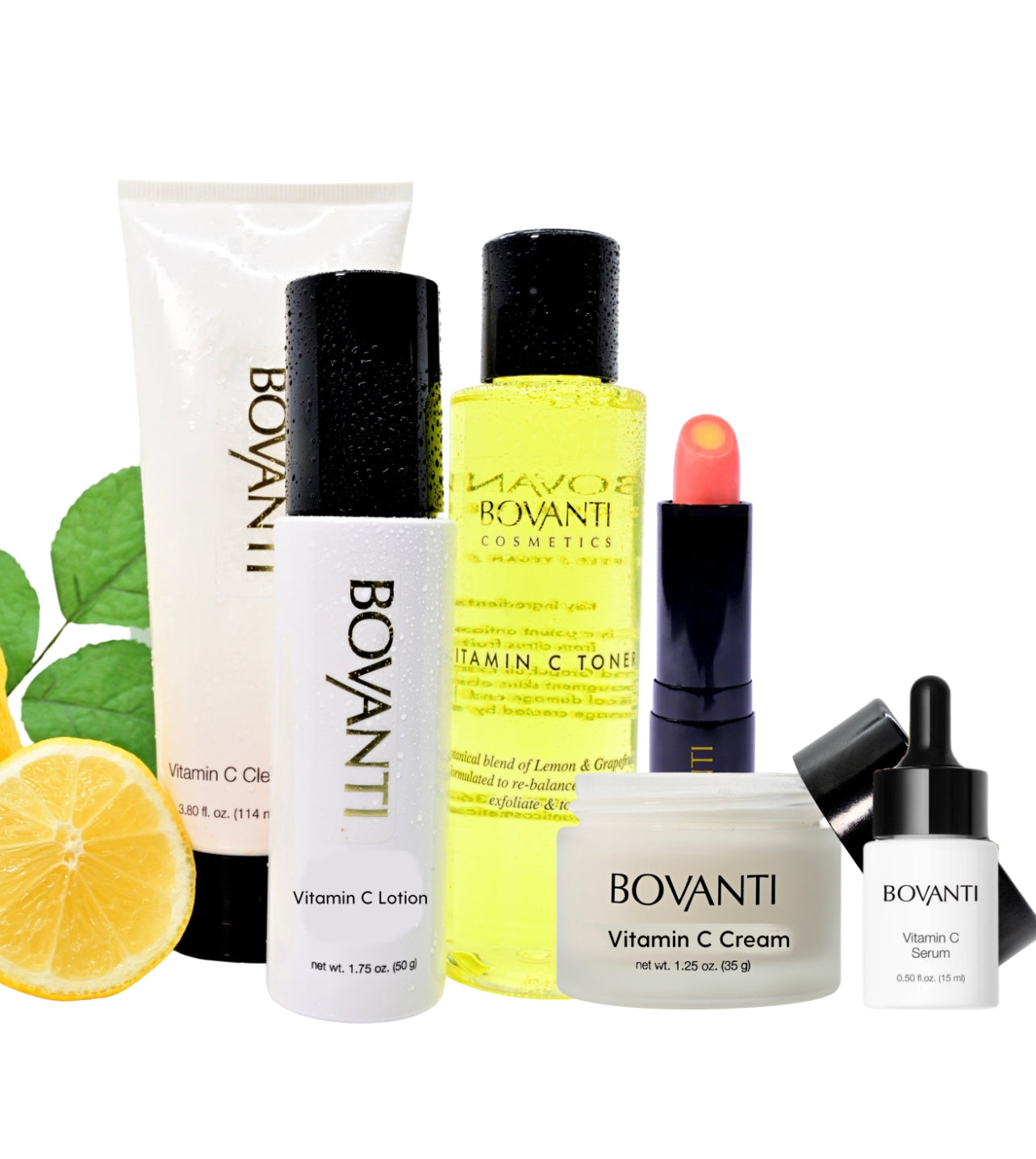 It's all in the details
Complete skincare for radiant, healthy skin: This 6 piece set includes all the essentials for radiant skin. Bovanti's Vitamin C enriched cleanser, toner, daily moisturizer, Night Cream, Serum, and lip treatment target dry, dull skin to leave your complexion looking instantly brighter, radiant, and plump.
Why vitamin C?: Vitamin C is an antioxidant that's known for repairing skin damage caused by factors like aging, UV exposure, and toxins. It also brightens the skin and targets hyperpigmentation. Incorporating this vitamin C skincare set into your routine promotes skin health with Bovanti's bestselling and luxuriously nourishing, hydrating formulas.
What you'll love about it
6 piece skincare set
Vitamin C enriched
Refreshes skin
Gluten free
Soy free
Protects skin
Dairy free
Anti-aging
Brightening
Nut free
Firms skin
Balances skin tone
Hydrating formulas
Ideal for all skin types
Pro tip
Make sure your skin is well-hydrated before applying your foundation for the most natural-looking, radiant finish possible.
Key ingredient:
Vitamin C infused skincare works to protect your skin against free radicals, environmental aggressors, & the effects of aging. At the same time, this skin-enhancing antioxidant gently resurfaces and polishes skin for a smoother texture and a healthier-looking, radiant appearance.
Discover the Vitamin C Skincare Set
1.    Vitamin C Cleanser:
A refreshing gel cleanser that swiftly washes away makeup and impurities. This cleanser gently exfoliates to remove dead cells on the skin's surface as it hydrates and nourishes.
2.    Vitamin C Toner:
An ultra-hydrating, brightening toner that simultaneously refreshes, refines, and restores radiance. The vitamin C in this formula also works to firm and tone skin in combination with rejuvenating botanicals and potent antioxidants.
3.    Vitamin C Lotion:
A lightweight, vitamin C-enriched daily moisturizer that provides broad-spectrum protection against harmful UV rays. This cream brightens and repairs skin for a fresher, firmer, more vibrant complexion.
4.   Vitamin C Lip Treatment
Say goodbye to lip dryness and hello to a hydrating lip treatment to keep chapping at bay. Richly nourishing jojoba & avocado oils intensely moisturize and smooth your lips while leaving a beautiful sheer layer of essential antioxidant protection.
5.    Vitamin C Cream
As your skin naturally repairs itself overnight, this is the ideal time to apply potent skincare products- this concentrated cream helps you take advantage of this peak skin-repairing window. Trust in the powers of L-ascorbic acid, the advanced form of vitamin C we've added in this cream, to brighten, firm, and strengthen your skin while you sleep.
6.    Vitamin C Serum
Ready for brighter, radiant skin? Each application of the 10% Vitamin C Serum works on the skin's surface to restore radiance to a dull complexion, brighten, and even skin tone.

 

 

if endif

if endif