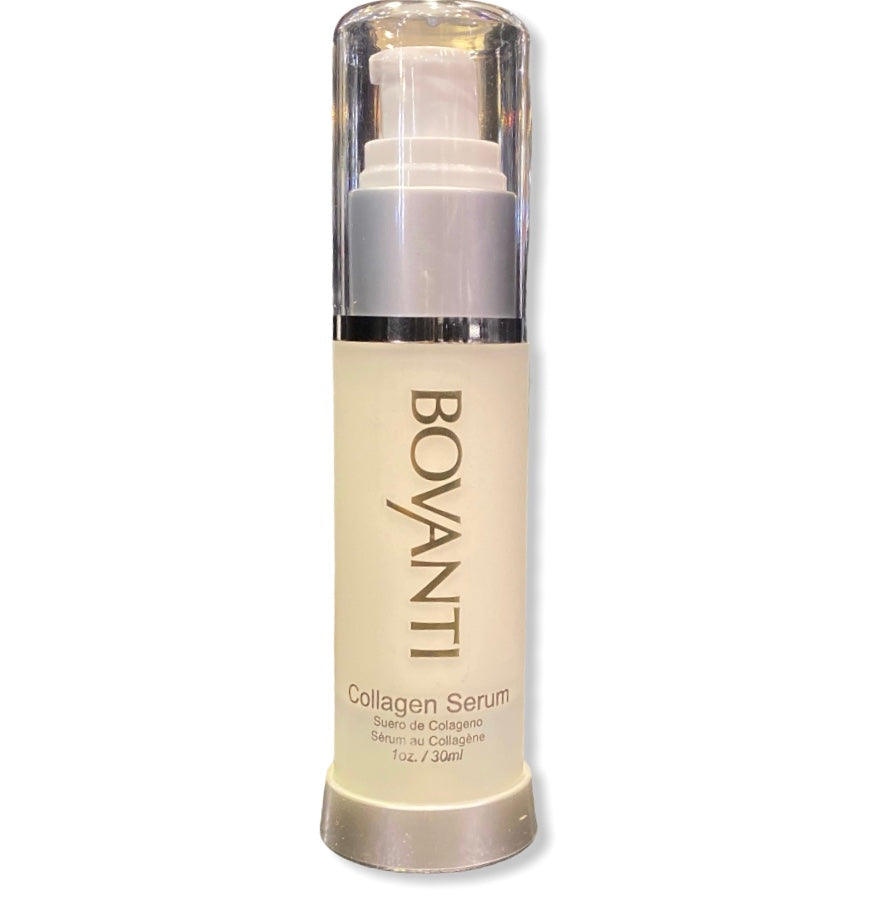 It's all in the details
The ultimate age-delaying blend: Bovanti's Collagen Serum offers mature skin an advanced formula of the most rejuvenating botanicals, vitamins, and minerals that work to restore a more youthful complexion. Each ingredient has been selectively chosen for its ability to naturally improve collagen and elastin production, clearing the way for noticeably bouncier, plumper skin.
Results on a deeper level: This serum's formula goes above and beyond to offer your skin a rich dose of over 14 rejuvenating active ingredients that delve beneath the surface to promote your skin's natural production of collagen and elastin, the building blocks of an eternally youthful complexion.
Promotes skin cell renewal: Opt for this luxuriously nourishing serum that helps to repair your skin's loss of elasticity and diminish fine lines. Rich emollients and rejuvenating extracts like macadamia and ginkgo biloba help restore your skin's softness and promote healthy cellular renewal.
What you'll love about it
Instantly nourishes dull skin
Regenerating jojoba
Diminishes fine lines & wrinkles
Protective macadamia
Rejuvenating pseudocollagen
Improves skin elasticity
Moisture-binding vitamin E
Softens rough skin
Brightening vitamin C
Promotes younger-looking skin
Replenishes skin with antioxidants
Collagen-bonding grape seed
Plumping hyaluronic acid
Promotes cell renewal for fresh skin
Collagen-building gingko biloba
Skin nourishing nori
Mineral-restoring horsetail
Collagen stimulating centella asiatica
Youth-preserving green tea
Revitalizing grapefruit
Skin-enhancing pro vitamin B5
Pro tip
Apply 1-2 drops evenly around your face and neck, massaging the serum until it's well absorbed. Avoid the eye area.
Ingredient Spotlight:
Jojoba Oil:
Healing and regenerative properties. This oil also moisturizes and nourishes the skin.
Macadamia Oil:
Protective regenerative oil.
Vegetable Psuedocollagen:
A plant-derived, superior moisture binding active ingredient that offers all the benefits of collagen.
Tocopheryl Acetate:
A concentrated form of vitamin E, a natural moisture binder that allows the skin to breathe and function naturally. This antioxidant improves moisturization, softness, and smoothness, provides photo protection, and helps slow the aging process.
Ascorbyl Palmitate:
A potent form of antioxidant Vitamin C to brighten, even, and repair the complexion.
Grape Seed Extract:
Bonds with collagen which helps promote cell health, elasticity, and flexibility.
Hyaluronic Acid:
A regenerative natural moisturizer with the ideal balance of water absorbing and holding properties.
Ginkgo Biloba Extract:
Helps reduce puffiness, offer anti-allergenic properties, and promote collagen production.
Nori Extract:
A red algae that's highly moisturizing. Nori offers your skin healthy nutrients including vitamins B2, B6, and B9, and beta carotene.
Centella Asiatica Extract:
A powerhouse botanical that promotes better circulation for more radiance and improves your skin's production of collagen.
Horsetail Extract:
A plant with a high silica mineral content that cleanses, heals, and offers astringent and anti-inflammatory properties to dull skin.
Green Tea Extract:
A highly-potent tea extract rich in youth-preserving antioxidants for the skin.
Grapefruit Oil:
This citrus fruit offers skin soothing, conditioning, and brightening benefits.
Panthenol:
Also known as pro-vitamin B5, this ingredient softens and smooths the complexion.
if endif