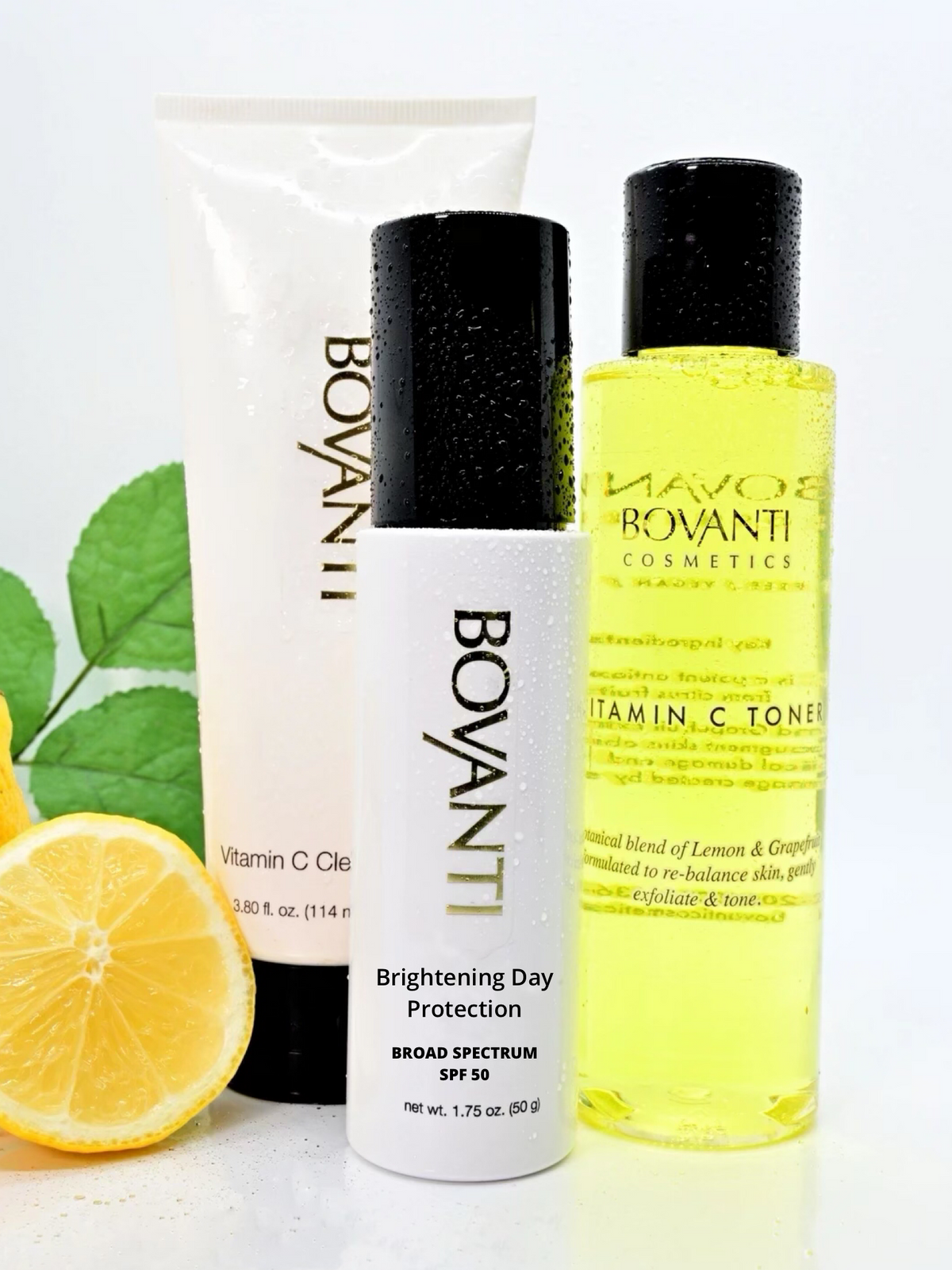 It's all in the details
Skincare trio for radiant, healthy skin: This 3 piece set includes all the essentials for radiant skin. Bovanti's Vitamin C enriched cleanser, toner, and new SPF 50 daily brightening moisturizer target dry, dull skin to leave your complexion looking instantly brighter, radiant, and plump.
Why vitamin C?: Vitamin C is an antioxidant that's known for repairing skin damage caused by factors like aging, UV exposure, and toxins. It also brightens the skin and targets hyperpigmentation. Incorporating this vitamin C skincare set into your routine promotes skin health with Bovanti's bestselling and luxuriously nourishing, hydrating formulas.
What you'll love about it
3 piece skincare set
Vitamin C enriched
Refreshes skin
Gluten free
Soy free
Protects skin
Dairy free
Anti-aging
Brightening
Nut free
Firms skin
Balances skin tone
Hydrating formulas
Ideal for all skin types
Pro tip
Make sure your skin is well-hydrated before applying your foundation for the most natural-looking, radiant finish possible.
Key ingredient:
Vitamin C infused skincare works to protect your skin against free radicals, environmental aggressors, & the effects of aging. At the same time, this skin-enhancing antioxidant gently resurfaces and polishes skin for a smoother texture and a healthier-looking, radiant appearance.
DISCOVER THE VITAMIN C SKINCARE SET
1.    Vitamin C Cleanser:
A refreshing gel cleanser that swiftly washes away makeup and impurities. This cleanser gently exfoliates to remove dead cells on the skin's surface as it hydrates and nourishes.
2.    Vitamin C Toner:
An ultra-hydrating, brightening toner that simultaneously refreshes, refines, and restores radiance. The vitamin C in this formula also works to firm and tone skin in combination with rejuvenating botanicals and potent antioxidants.
3.    Brightening Day Protection:
Lightweight daily moisturizer with broad spectrum protection. Hydrates and protects against sun damage and premature aging. Helps prevent discoloration and diminish existing dark spots. This triple action brightening system helps prevent discoloration while diminishing existing dark spots, so the complexion looks younger, healthier and more radiant. Natural Licorice Extract is a tyrosinase inhibitor that helps to prevent hyper-pigmentation from forming, for a renewed brightness and even skin tone. White Lotus Flower Extract helps repair, calm and brighten skin.
if endif